October Release Notes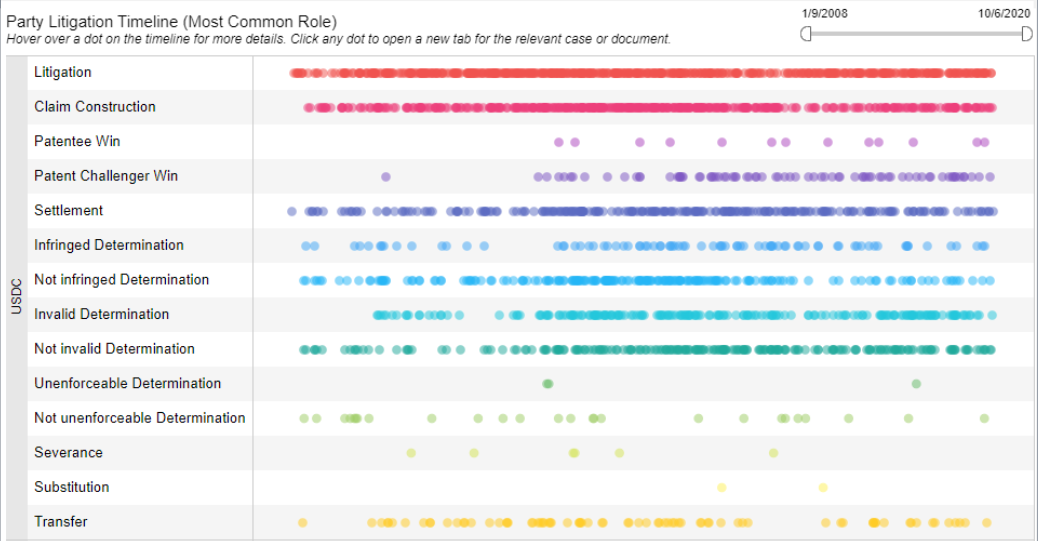 ANDA Filter for Custom Searches
We added an ANDA filter to nearly all custom search types in our patent library, allowing users to query for ANDA cases with just a click.
HOW THIS HELPS YOU
Now, instead of querying for ANDA cases by searching for "cases that include" ANDA pleadings, you can directly filter for ANDA cases – saving time and headache.
HOW TO USE THE TOOL
In nearly every custom search type, click in the box under "Case Type." From the drop-down choose either "Cases with Non-ANDA Pleadings," or "Cases with ANDA Pleadings."
We now have a PTAB outcome designation for "mixed" patentability findings.
HOW THIS HELPS YOU
Our mixed outcomes classification improves outcome granularity and allows users to see PTAB final decisions that found only some instituted claims unpatentable.
HOW TO USE THE TOOL
In a Cases search, use the "Case Outcome" filter by starting to type "mixed" and select it from the dropdown.
New Patent & Party Summaries with Tableau Charts
Our revamped Patent and Party summary pages now show an at-a-glance litigation history for each patent and party in our system. We've leveraged our new Tableau charts to give users more "data per pixel," leading to a more concise, meaningful profile experience.
HOW THIS HELPS YOU
Now you can view a patent's abstract, determination status, case history, outcome history, and much more – all on the same page. Similarly, you can view a party's (or group of parties') case history, outcomes, most common role, etc. in our newly retooled summary page.
HOW TO USE THE TOOL
To find our new patent or party summaries go to the "Profiles" section of the search page. In the correlating search box type in a patent number or party name to see its summary.  
Data Enhancements and Bug Fixes
Added a "hide" feature for the outcome field in non-Patent targets
Fixed case outcomes by year in XLS exporting
Added a feature allowing users to hide grouped claims in trademark/copyright cases
Adjusted Docket Sheet term and construction subfield column widths
Edited default expand settings, showing more information at baseline for Docket Sheets, Documents, Determinations, and Claim Construction searches
Tableau Export bug fixes