A professionally curated litigation intelligence platform.
For over a decade, Docket Navigator has been a must-have patent litigation intelligence platform for more than 15,000 judges, lawyers and legal professionals. Recently expanded to cover trademark, copyright, and antitrust litigation, Docket Navigator is the only service that reports every significant event, in every case, every day.
Our U.S. based legal editors curate litigation data by hand, recording up to 29 different types of data for each court document and up to 19 different types of data for each case.  The result is the most detailed, most accurate, and most comprehensive litigation database available.  Our daily email reports and custom alerts keep you up to date, while our research database, special reports, and enhanced analytics help you make more informed, data driven decisions.
Join The Crowd
Who subscribes to Docket Navigator?
100 Busiest Patent Litigation Firms*
75%
100 Busiest Patent Litigation Attorneys*
87%
Group Subscription Renewal Rate
Covers patent litigation in the U.S. district courts, the ITC, and AIA proceedings in the PTAB.

Covers U.S. district court cases involving claims of copyright infringement.

Covers U.S. district court cases involving trademark and Lanham Act claims.

Covers U.S. district court cases involving federal antitrust claims.
Direct To Your Mailbox
Stay current in less than 5 minutes a day. The Docket Report provides a daily bird's eye view of our practice areas in every U.S. district court, the ITC, and IPR and CBM proceedings in the PTAB. We comb through docket sheets (usually between 800 and 900 proceedings per day) and carefully choose significant orders or pleadings which are then summarized and categorized by type of motion and legal issue. The end result is a streamlined summary of the most applicable events occurring in patent cases across the US.
Lead Story

New Case Summaries

View Profiles & Analytics

Free PDF Downloads

Professionally Written Summaries

Links to create alerts and follow cases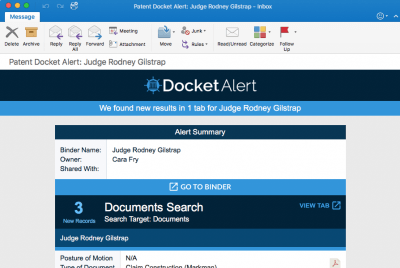 Conduct nearly any search in the Docket Navigator database and save the search as an alert. We'll run the search for you automatically every business day and send you an email with new results. With Docket Alerts you can effortlessly track new cases involving any company or patent, new filings in any case, decisions on evolving legal concepts (e.g., §101 unpatentability after Alice), or rulings on any type of motion (e.g., motions for attorney fees).
You can also reduce email clutter by creating one alert for multiple searches in a binder. Compass will generate a single email that covers updates for the entire binder. You control the recipient list and frequency and changes to the binder automatically update the alerts.
New Case Notifications are the quickest way to learn of new cases. Sent multiple times per day, New Case Notifications keep you up to date on new filings as they occur.

Power Your Research With Compass
The most sophisticated litigation data delivery system available.
Compass is packed with features to make your job easier.
Take Docket Navigator for a test drive.