Patent Appeals
The most significant expansion of Docket Navigator's patent litigation coverage in over a decade.
You spoke.  We listened.
Over the years, the most requested new feature, by far, is coverage for appeals of patent cases. For more than two years, the Docket Navigator team has been busy working behind the scenes building database architecture, gathering court of appeals data, curating the data as we have for lower court cases, and then connecting all of the new data with the lower court data.  It has been a big effort, and there is more to do, but we are pleased to announce the first phase release of Patent Appeals.
What kind of data is included?
The Patent Appeals data is extremely granular, matching the depth and scope of the data for U.S. district court cases, the ITC and the PTAB. The Patent Appeals data allows you to track cases, damage awards, injunctions, orders, patent determinations, case outcomes, claim constructions, etc. through the appeals process including remands, multiple appeals and eventually the Supreme Court. You will be able to conduct nearly any search, using the same user interface you've been using, and instantly see whether the search results were subject to appeal and, if so, the outcome on appeal. Coverage includes appealed patent cases from U.S. district courts, the Court of Federal Claims, the PTAB and the ITC.
Subscriptions with Appeals
If your group hasn't subscribed to Patent Appeals yet, you can request temporary access using the form below.
Where can I find Patent Appeals data?
Patent Appeals data will be accessible in the following locations:
Search Results & Analytics
When available, Patent Appeals data will automatically appear in Docket Navigator search results and analytics.  For example, if you conduct a search for cases, the search results will automatically reflect Patent Appeals data when applicable.




Patent Appeals Report
Much like the popular Patent Docket Report, the new Patent Appeals Report provides daily or weekly updates on:
Newly appealed cases
The specific judgments being appealed and associated data such as claim constructions, patent determinations, remedies, etc.)
Procedural decisions
Decisions resolving the appeal
How often is the Patent Appeals Report delivered?
That's up to you. Our testing group had mixed opinions, so we decided to offer two options. Both the Daily Patent Appeals Report and the Weekly Patent Appeals Report have the same great data but different date ranges.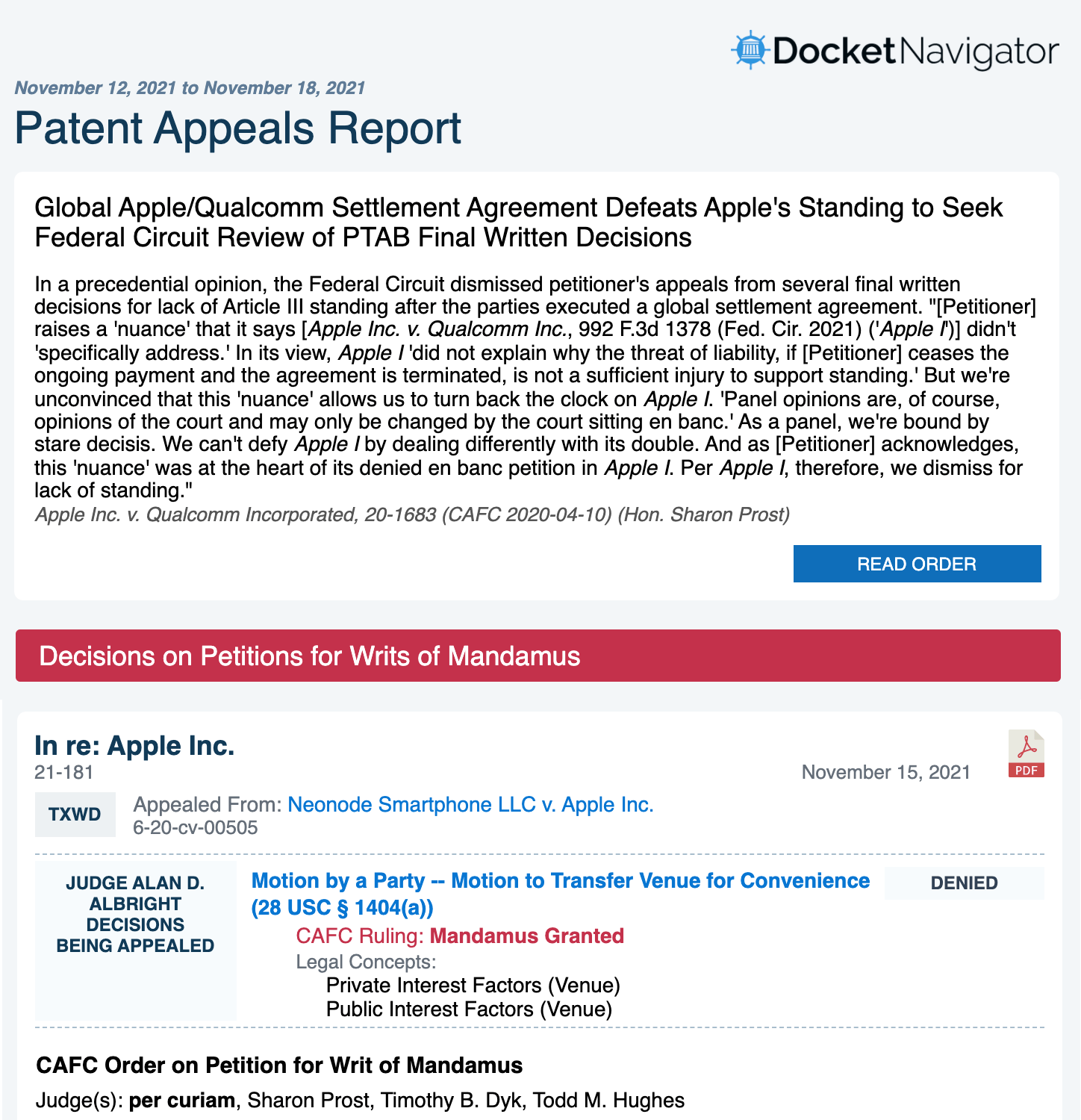 When will the data be available?
As you might imagine, this expansion of coverage requires a significant investment of resources. Our Attorney Editors have been working to enter appeals data for over a year, entering the current day's data first and then back-filling for previous days. Because of that, we will be releasing appeals coverage in four phases:
Phase
Release Content
Target Date
One
Patent Appeals Docket Report
October 2021
Two
Search results include appeals data for CAFC cases with 2018 case numbers or later (cases filed on or after October 1, 2017).
Q4 2021
Three
Patent Appeals-specific searches and analytics.
Search results includes appeals data for PTAB cases since inception.
Q3 2022
How much does Patent Appeals cost?
You can decide anytime whether to include it or not in your subscription. For example, if you pay an invoice that includes CAFC and later decide to remove it, we'll refund the unused portion of the CAFC additional price. As always, you are never locked into a particular subscription. Here are the 2022 monthly rates to add Patent Appeals to your Patent Library subscription.
| Total Users | 2022 (monthly) | Monthly Rate Per User* |
| --- | --- | --- |
| 1 | $25 | $25 |
| 4-9 | $95 | $10.56 |
| 10-24 | $200 | $8.33 |
| 25-49 | $310 | $6.33 |
| 50-99 | $435 | $4.39 |
| 100-199 | $530 | $2.66 |
| 200+ | $650 | |
*Effective rate when all seats are filled.