July Release Notes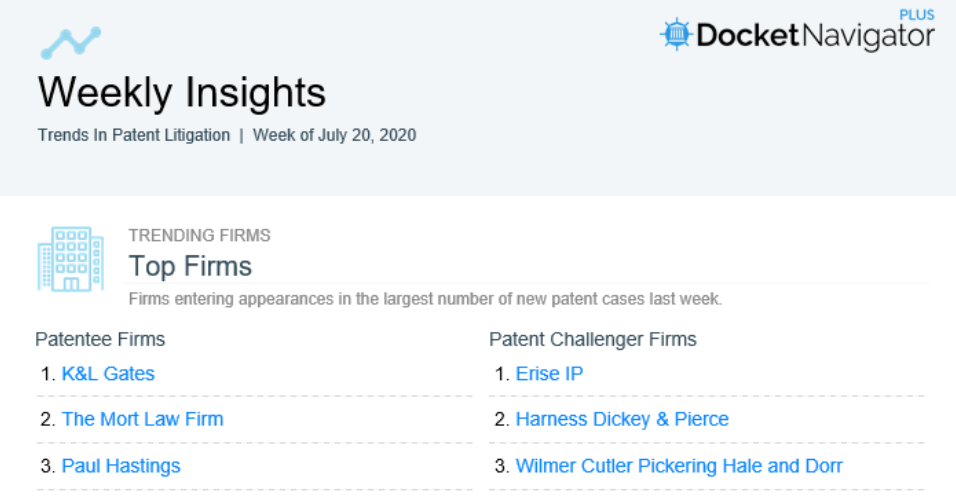 Attorney Litigation History
The Litigation History page is a user-editable employment and case timeline that will help form the foundation of the long awaited Attorney Profiles in Docket Navigator's research platform.
HOW THIS HELPS YOU
To ensure that the data being collected on your attorney litigation experience is as accurate as possible, we've created a tool that puts attorneys and their administrators in the driver's seat. This tool allows you to quickly and efficiently review and edit your patent litigation history. Editing your history is similar to updating your LinkedIn page. Taking a few moments to ensure that the data we collect from PACER matches your experience means that you get credit for the cases you worked on.
HOW TO USE THE TOOL
To view your Litigation History, go to your account and on the far-left side of the screen, click Litigation History. 
The Weekly Insights email is a new, numbers-driven way of looking at patent litigation activity on a weekly basis.
HOW THIS HELPS YOU
Stay informed on broader issues with the Weekly Insights email. Each edition will contain current statistics on:
Top firms that week
The most popular Judge, Court, Patent, Firm, Party and Case Profiles
The top damages award
The "biggest" case filed
The most popular order of the week
Case filing trends
Cases that were appealed or are approaching trial
Ever want to exclude certain, unwanted results in your searches? Now you can. We've added a feature that gives users the ability select and hide individual results.
HOW THIS HELPS YOU
The feature was requested by some of our users so that they can create easier-to-read presentation assets. It lets you choose which rows are most relevant to your task and hide the extra noise.
HOW TO USE THE TOOL
When browsing results from any search, select the row you would like to hide and click "Options > Hide Selected" at the top of your results list.
Data Enhancements and Bug Fixes
Improved data entry for attorney litigation histories
Added event based remedy searching
Fixed docket sheet download errors

Improved accusation groupings in the Docket Report

Improved the default print header for downloaded documents