January Release Notes
The Docket Report Archive is a list of the daily Docket Reports from the past year, fully text searchable.
HOW THIS HELPS YOU
Remember an old headline mentioning a case, but can't remember the case? Want to dig through previous annotations or interesting orders? Now you can access an archive of the last years' Docket Reports all in one place.
HOW TO USE THE TOOL
To get to the Archive, go to the navigation icon in the top right of the Search page: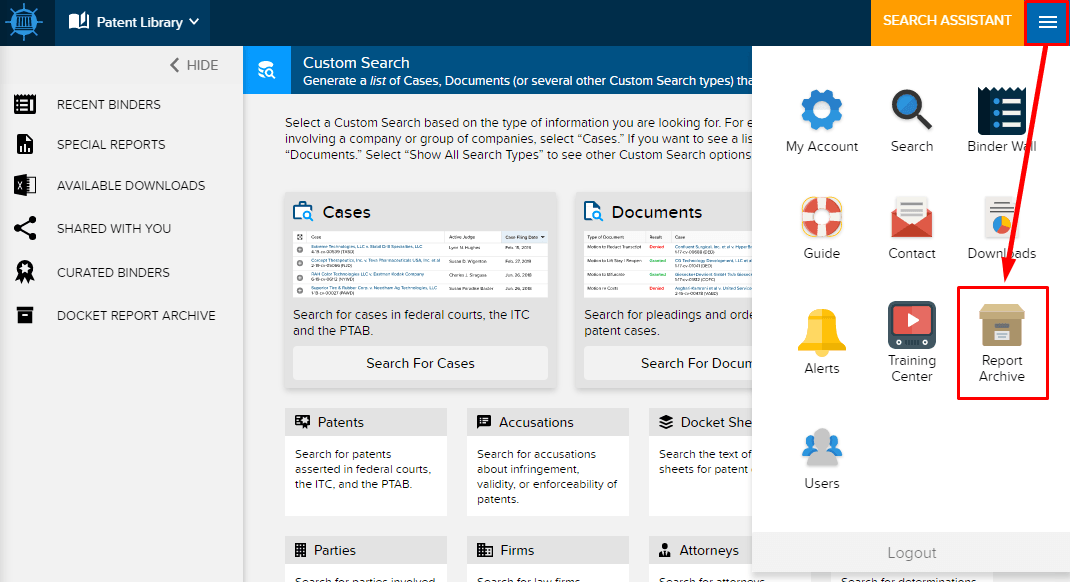 2020 Year in Review & Omnibus Report
Each year Docket Navigator publishes the famous "Year in Review" PDF, discussing the most interesting trends in patent litigation over the previous year. Last year, we published two versions for the first time – (1) a hyperlinked PDF, and (2) an interactive, in-database report. This month we released our finished 2020 Year in Review PDF, as well as an updated version of the interactive report: the Omnibus Report.
HOW THIS HELPS YOU
Both reports comprehensively compare jurisdictions, law firms, outcomes, and determinations over past years. The PDF Year in Review is polished and pitch-ready, while the Omnibus Report puts the power at your fingertips. Click on the buttons and charts throughout this dynamic, user-controlled chart to create your own customized reports – all updated in real time so you can stay current throughout the year.
HOW TO USE THE TOOL
The Omnibus Report can be found in the Report Builder section of the Docket Navigator search page.
To view the PDF version of the Year in Review go to the "News & Reports" section of Docket Navigator's website. The Year in Review will be under the "Special Reports" section. To download the report now, click the button below.
Data Enhancements and Bug Fixes
Updated local counsel/HAE legend in Docket Report to improve visibility
Updated filter drawer to open by default
Updated text for litigation history popup
Updated share alert dialog table to scroll horizontally with table header
Most popular profiles bug in Weekly Insights fixed