February Release Notes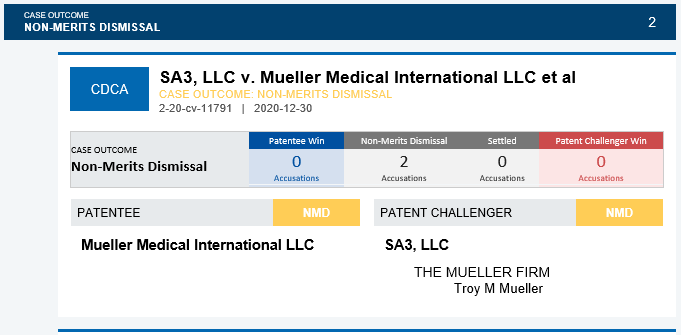 Patent Appeals Weekly Docket Report Table of Contents
Like our other Docket Reports, we've added a hyperlinked table of contents to help users view the Appeals Docket Report at a glance or jump directly to sections of interest.
HOW TO USE THE TOOL
Simply click a section title on the table of contents to instantly jump there in the report.

Appeals Tab in Case Summaries
Interested in the CAFC's rulings on that case you're researching? So are we! We've built in an Appeals tab into each of our case summaries to help you track the case beyond the primary tribunal.
HOW THIS HELPS YOU
We've built our appellate data not just to provide high level coverage, but to directly track each appealed ruling and doctrinal issue – which we tag as they are disposed of on appeal.
HOW TO USE THE TOOL
Simply click on the Appeals tab, and view all CAFC activity and related cases.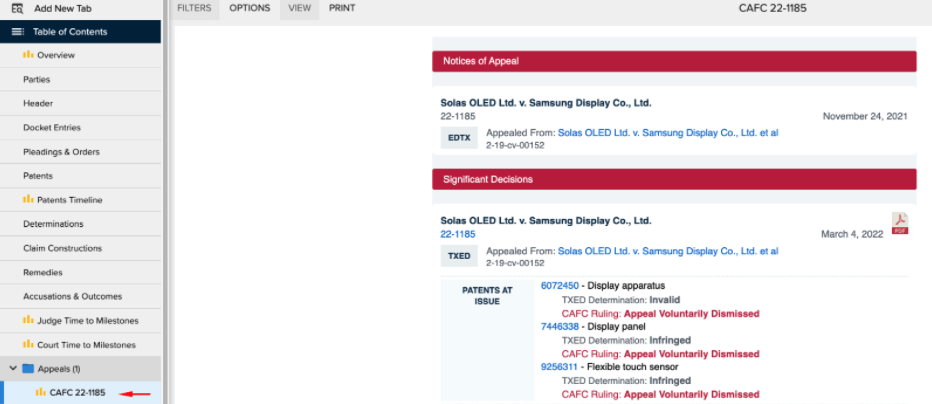 Appeals Tab in Judge Profiles
Our users know that the Court of Appeals for the Federal Circuit (CAFC) influences nearly every aspect of strategic decision making in Patent litigation. From questions about judicial reversal rates, granted mandamus rulings, etc. – it simply matters too much to not be informed!
HOW THIS HELPS YOU
Now you can directly view how the CAFC handles rulings for US District Court/PTAB/ITC judges on appeal. View overall affirmance/reversal rates, as well as detailed breakdowns of appellate rulings by underlying order type.
HOW TO USE THE TOOL
Click the "Appeals Outcomes" tab in any Judicial Profile to view judge specific appellate data.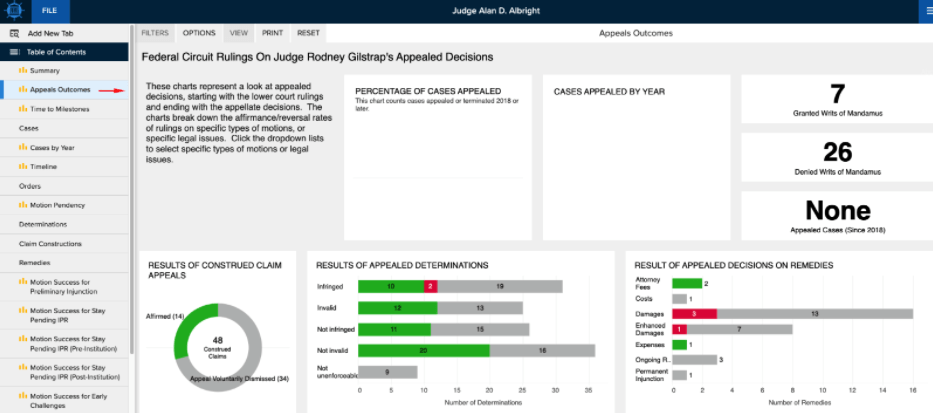 Data Enhancements and Bug Fixes
Updated Patent Profile tabs