December Release Notes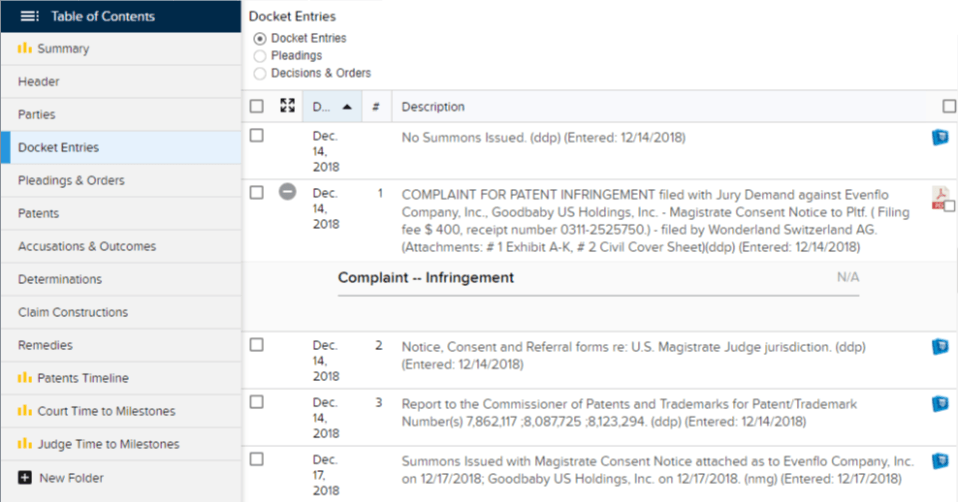 Docket Sheet Improvements
Docket Sheet displays have been revamped to create a one-page, holistic case overview. This new overview allows users to scroll through an entire Case Docket, viewing both traditional docket entries and expandable sections for events and annotations in filings that have been processed.
HOW THIS HELPS YOU
Now users can view a case in its entirety, viewing both simple filings and valuable Docket Navigator information, all without leaving the page. Of course, users can choose to hide events/annotations for the classic view with the click of a button.
HOW TO USE THE TOOL
The new Docket Sheet view has already been deployed into every Case Profile. Simply open the Docket Entries tab in any Case Profile and scroll down to see marked pleadings/orders and the events and annotations that are attached. To hide them, click the "collapse all" icon at the top of the screen, or edit the "Expandable Sections" in the View menu.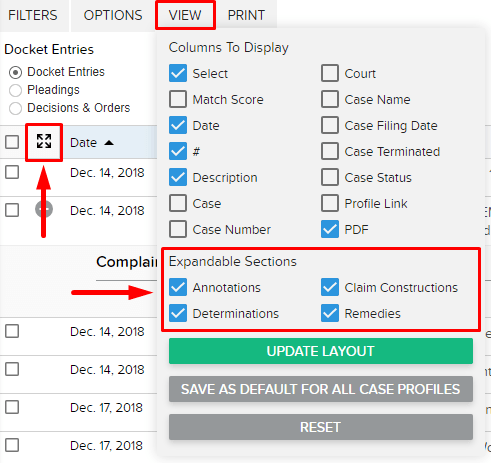 H

ighly Assertive Entity

 (HAE)

 

Flags
Docket Reports have been updated with the HAE flag to mark entities classified as "Highly Assertive" – a classification system developed to answer the constant question about which parties are "Non-Practicing Entities" (sometimes called "trolls").
HOW THIS HELPS YOU
Many litigators find themselves wondering who an opposing litigant is – and especially if they are one of the so called "trolls" or "NPEs." Docket Navigator constructed a classification system to identify highly assertive entities, which is now incorporated into the Docket Report so users can see which parties are HAEs when a case is first filed!
HOW TO USE THE TOOL
In the Docket Report simply scroll and the HAEs will be marked by the red icon, as shown in the legend at the top of the Docket Report.
Data Enhancements and Bug Fixes
Transitioned Year in Review to Omnibus Report

 

Added tab control for dropdown styles in Docket Sheet searches 

 

Docket 

S

heets expandable sections

 are

 selected and expanded by 

default

 

Improved 

D

ocket 

S

heet field 

widt

hs

 and controls

 

Fixed default dates on outcome charts

 

Added Local Counsel Designation to 

Docket Reports