InQuartik Corporation to Partner With Docket Navigator to Provide On-Platform Patent Analysis Capabilities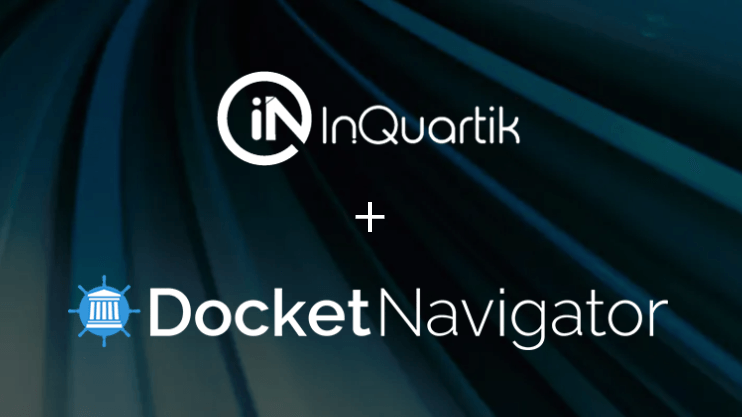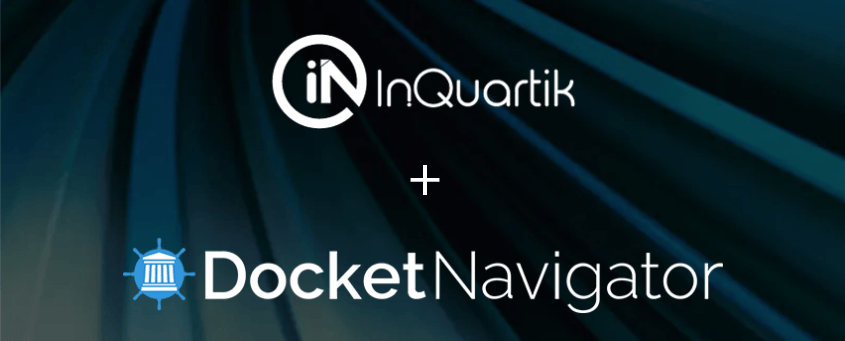 The alliance will allow Docket Navigator's users to access comprehensive patent validity reports.
The new function will be integrated natively in Docket Navigator's interface, centralizing patent litigation work under one roof.
Users will be able to gather helpful information about the patents' quality, aiding potential defense strategies, or patent invalidity actions.
Taipei, TW/Austin, TX | Aug 27, 2020 — ​InQuartik Corporation​, a global leader in providing patent analytics and solutions backed by timely and complete patent data, announced today that it has signed a cooperative agreement with ​Docket Navigator​, the most comprehensive patent litigation database available, to integrate ​Patentcloud's Quality Insights (QI) patent analysis functionalities into Docket Navigator's platform.
By looking at past legal events, claim scope changes, and validity issues, the newly-added QI folder will provide Docket Navigator customers comprehensive patent validity reports for litigated patents.
Darryl E. Towell, CEO of Docket Navigator, said: ​"​As patent litigation becomes increasingly data-driven, the need for seamless integration of complementary tools has never been greater. Our alliance with InQuartik offers Docket Navigator's customers access to Quality Insights reports — addressing a wide range of possible invalidity defenses – while working in the Docket Navigator platform. Now researchers can explore a patent's litigation history and identify potential invalidity defenses using a single tool. We're excited to partner with InQuartik to deliver these new insights to our customers."​
The integration will allow Docket Navigator's users to:
Visually map the claim terms to the patent's specification to highlight potential §112 issues;
Visually map the claim terms to the patent's file wrapper to identify narrowing amendments, plus any §102 and §103 issues;
Identify potential prior art using proprietary analytics features;
Browse visual summaries of the prosecution and post-grant proceedings history;
Check the legal status of the patents in the family and the related prior art summaries;
Search through office actions.
Y.P. Jou, CEO of InQuartik, said: "​We believe that IP professionals can work smarter and live better only through the security provided by trustworthy sources of information. By combining our utmost attention to timeliness and completeness of patent data with Docket Navigator's unique dedication to hand-curated patent litigation reporting, this partnership is set to start an exciting new era for existing — and future — users.​"
The new Quality Insights reports are now available to Docket Navigator Plus subscribers within Patent Profiles. Patent Profiles can be viewed by clicking a patent number anywhere in Docket Navigator or a Docket Navigator email, or by entering a patent number in the Profiles section of Docket Navigator's ​search page​.
About InQuartik
InQuartik is an IP intelligence company dedicated to converting patent data into actionable insights and delivering AI-driven solutions. With a database of over 100 million patent documents from 90+ countries, InQuartik is an industry leader. Throughout the entire patent lifecycle, InQuartik supports IP professionals and law firms through its platform ​— ​Patentcloud ​— enabling them to work smarter, live better, and gain more success.
About Docket Navigator
For more than a decade, Docket Navigator has been a must-have patent litigation intelligence platform for more than 16,000 judges, lawyers, and legal professionals. Recently expanded to cover trademark, copyright, and antitrust litigation, Docket Navigator is the only service that reports every significant event, in every case, every day.
InQuartik Contact:
Bob Chen, Director of Marketing & Business Development
bobchen@inquartik.com
Linkedin
Docket Navigator Contact:
Amy Towell, Chief Operations Officer
amy@docketnavigator.com
Linkedin